Ramstal is a metal fabrication company.
In addition to our standard offer, we also carry out individual and custom projects. We place constant emphasis on innovation and quality, also on cooperation with other manufacturers and commercial enterprises.
Ramstal is CE-certified according to DIN EN ISO 3834-3 and EN 1090-1. We are specialized in steel fabrication such as stairs, machine parts and steel structures. Our office employs highly qualified and experiences engineers. Projects are supported by designs in CAD, modeling and visualizations in 3D. The finished structures are galvanized according to the PN-EN-ISO 1461 standard and sent to our powder coating hall, where they are painted only with certified Quality Cout paints.
Every product manufactured by Ramstal undergoes quality control before the delivery to the customer.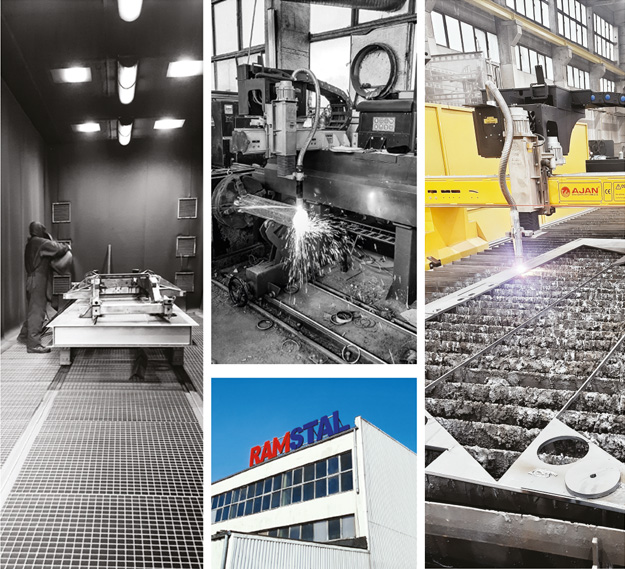 Ramstal

is a metal fabrication company.
Ramstal is dedicated business partner always looking  for solutions with secure process that guarantees efficiency, performance and compliance with best quality systems you require. Our engineers  are provide high quality assistance with prototypes, engineering, design, sourcing, production preparation and supporting to bring value to our partners .
We are producing both complex and simple steel stairs to meet architects requirements. Using different  range of materials including mild steel  , stainless steel and  to give finish with  hot dipped galvanized according to PN-EN ISO 1461 or powder coated painted according to Ral colors . Our steel staircases, safety is combined with good design to provide a building.
Ramstal – is a manufacturing company. In addition to our regular offer, we carry out projects for special orders. Many years of experience and cooperation with customers from all over Europe have enabled our company to achieve professionalism in production and design.
Designing
The design of steel structures is carried out by an experienced team of designers and constructors. When designing, we always try to find the optimal construction solution combining stability and aesthetics, especially when designing steel stairs or structures must integrate with building design.
Welding
We perform all types of welding, such as aluminum, steel and stainless steel. Qualified welders guarantee high quality and full customer satisfaction.
CNC bending and cutting
Thanks to the use of CNC technology in our company, all sheets, pipes and sections are precisely bent after modeling them in a CAD program. CNC technology allows for 100% control of bent shapes on both pipes and sheets.
Anti-corrosion protection
All steel structures made by Ramstal are protected against corrosion. Steel constructions and stairs for external use are hot dip galvanized according to the PN-EN ISO 1461 standard. Ramstal has painting systems, depending on the demand and technology, we powder paint details or use new generation acrylics on polyurethane coatings that guarantee long-term anti-corrosion protection in industrial and marine conditions C5, C4 – in accordance with the ISO 12944 standard.
The technical potential combined with the high quality service results in the increased interest of companies from the machine industry in establishing cooperation in the scope of making steel structures by Ramstal, in particular machine elements with specific quality and technical requirements, the execution of which is characterized by a high degree of difficulty in obtaining the desired quality parameters and technical, requiring the development of specific process solutions.